Concept and Innovation Awards
Concept & Innovation Awards Finalists announced
22/09/2023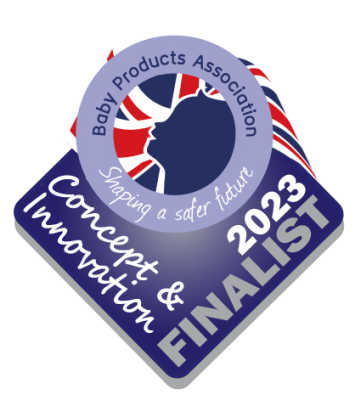 Three finalists of the Baby Products Association's Concept & Innovation Awards have been announced after 'dragons den' style presentations to a team of industry experts. These finalists will be invited to present their product ideas at Harrogate International Nursery Fair from 15th to 17th October 2023 where the winner will be revealed.

Julie Milne of the Baby Products Association explains: "Every year, the judges are pleasantly surprised by the hard work and dedication of the individuals who enter these awards. The product ideas are generally garnered by observation of a situation or challenge faced by parents of babies and young children and the motivation to come up with a solution. This year all three finalists impressed the judges and we are certain that their entries will gain significant interest from the industry."
Finalists include Cosy n Safe with its Excalibur i-Size car seat which is unusually lightweight and has a unique extended harness system to 125cm; plus five position reclines approved for all stages: Cheeky Rascals with the Brezza Bottle Washer Pro which automatically washes, sterilizes and dries bottles and pump parts killing 99.9% of germs: and Designability with an accessible pushchair suitable for manual wheelchair users, developed with mass manufacture in mind. The pushchair can be used by a disabled parent or carer and those who are non-disabled – one product for all offering freedom for disabled parents.
This year the Concept & Innovation Awards are sponsored by law firm Brabners whose intellectual property team is made up of experienced lawyers, dual qualified practitioners and specialist trade mark attorneys. Sara Ludlam of the company will be attending Harrogate International Nursery Fair, providing free information and advice to visitors, and will present the Concept & Innovation Award winner with its prize of £1000 of free legal advice.
Visit the Concept & Innovation Awards finalists at Harrogate International Nursery Fair on Stands B30, B32 and B33.