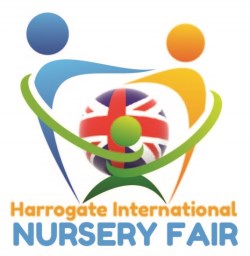 Harrogate International Nursery Fair is a not-to-be missed event for anyone in the baby products industry and is the UK's only nursery trade show. This takes place each year in the beautiful North Yorkshire town of Harrogate.
The Baby Products Association has a close working relationship with the show and stages its Baby and Nursery Trade Awards (BANTAs) and also the Concept & Innovation Awards at the show (more information can be found about these in the Awards section of this website).
Association members exhibiting at Harrogate International Nursery Fair receive a significant discount, which depending on the size of stand and whether it is shell scheme or space only, can be between 12 and 17 per cent.
Visit the show website for more information about exhibiting, or contact Adrian Sneyd on 01902 880906 or email: adrian@nurseryfair.com
LATEST SHOW NEWS:
Harrogate expands as more brands sign up for the October show
Following the recent announcement of an additional hall at the Harrogate Convention Centre to accommodate demand for its October show; Harrogate International Nursery Fair confirms the return of more favourite brands.

i-Candy and Kinderkraft are the latest companies to book space, joining brands such as BabyStyle, Bebecar, Artsana (Chicco and Recaro), Cosatto, Cybex, Dorel Juvenile, Jané, Peg Perego, Silver Cross and Venicci (to name just a few).
Adrian Sneyd, show organiser, said: "With the covid vaccination programme progressing successfully throughout the UK, confidence in the October show has grown rapidly and we are now in discussion with further brands seeking to confirm exhibition stands and also existing exhibitors looking to increase space. After such a difficult year for the industry, it is exciting to experience such positive vibes and everything is pointing towards a bumper show in October. It will be great to see so many new and familiar faces after such a long time."
Details about exhibiting at Harrogate International Nursery Fair (including an online booking form) are available on the website at www.nurseryfair.com
Here's what some of Harrogate's previous exhibitors and visitors have to say:
"A fantastic return to Harrogate for Boori, we had a number of well received new products to show our existing customers and (hopefully) impress a few new ones with. Our hall and position worked really well for us and as usual the Nursery Fair team was on hand to help out with anything else we needed. Very much looking forward to being back next year"
Neil Millard, Boori
"Across both of our brands (Little Chick London and Breathablebaby) we had our best Harrogate ever in terms of opening new accounts and taking orders – what more can I say."
Rachelle Harel, RHSM Group
"The layout has been really good for us. We saw lots of independent retailers and many major buyers – and felt that the atmosphere was very relaxed and friendly. Rather than rushing about, people had more time to stop and talk business."
Claire Alexander, Mummy Loves Organics
The Baby Products Association's team enjoyed Harrogate International Nursery Fair this year; access to the halls was good, the layout was compact but well-presented and there was a buzz again that has been missing for a couple of years. Everyone I spoke to said that they had a good show and did serious business. The independents turned out in droves and the buyers from the majors certainly made an appearance. The seminars were informative although not as well attended as they perhaps should have been."
Julie Milne, The Baby Products Association
"I felt the layout looked well-presented and we had some new accounts interested in opening, but we mainly focused on our current accounts. We had some 'new, never seen before' prams to show at Harrogate and we had a great reaction. Harrogate was the perfect opportunity to show off the whole range in one place."
Cassie Kealey, East Coast Nursery
"The show exceeded expectations – we have conducted more business per retailer than last year, particularly on our new high backed booster, Flex Fit."
Paul Sirett, BeSafe
"We have exhibited for many years, but this has been the first year that we opened a new account with a Harrogate based retailer! Our wicker cribs were popular among those who came to see our range."
Jack Lakomski, MJ Mark
"With the known demise of some of the larger outlets, this was the event this year that independent retailers should attend and view as an opportunity rather than an excuse. The quality of visitors to our stand exceeded our expectations with our new Oyster 3 proving a hit."
Andy Crane, BabyStyle
"As our first year exhibiting, what has astonished me is the level of business that we conducted on an international level as traditionally Harrogate is perceived as a UK independent visitor event. Of particular interest to visitors to our stand was our Merlin and Arthur car seats."
Harry Jhamat, Cozy n Safe
"We had a fantastic level of interest from independent retailers on our Luna range, which has been specifically created as a credible range aimed at independent retailers. We have been delighted with the response – the show has felt more cohesive this year and we are looking forward to exhibiting again in 2019."
Debra Tucker, Redkite
"We chose Harrogate as our first trade exhibition and we have been overwhelmed with support from the independent sector. We have signed up for next year as we can see the value this show offers to both exhibitors and visitors."
Emma Charlesworth, Roma Prams
"This year we have seen good quality retailers who have been very focussed during their visit giving us a great response to our 2018 collection and our new compact fold Minu. We are looking forward to welcoming everyone to our stand again next year."
Richard Bamforth, UPPAbaby
"Despite pre-show pessimism, the show was busy with many new independent stores visiting for the first time, as well as buyers from the major retailers which was a boost for our exhibiting brands. What was clear from the start, with a busier than expected Sunday morning, was that despite all the doomsayers, there remains a healthy appetite for a UK trade show."
Elliot Bishop, bébélephant
"This year has been our best UK trade show since launching in the UK two years ago. Although we felt that attendance might not have been as high as last year, we could clearly see that the calibre of those attending and visitors to our stand demonstrated a keen interest and understanding of our ranges. Here's to welcoming everyone in 2019, which will be an even stronger year for Peg Perego and its independent customers."
Phil Howes, Peg Perego
"This being our second year exhibiting, we noticed a distinct increase in footfall to our stand. The retailers we spoke to were actively seeking quality mattress options that focussed on a chemical free and anti-allergy aspect."
Steve Birds, Slumberland
"The quality of visitors has been excellent this year which led to three days of constructive meetings. My thanks to all of the retailers who turned up."
Simon Russel, Cheeky Rascals
"As a team, we would like to thank each and every single one of you who visited our stand at Harrogate International Nursery Fair 2018. It I such a great feeling to be able to see all of our existing stockists, but also meet new people from the industry."
Sylvia Kulawiak, Venicci
"This is a really exciting time for Aqua Wipes and as a newcomer to the parenting industry, it has been great to meet buyers and retailers in one place to discuss potential opportunities for the brand. The show has been our first stepping stone on an exciting journey ahead."
Dr Mark Little, Aqua Wipes
"Nursery Today has always supported our only UK trade show and will continue to do so. Having spoken to many independent retailers and exhibitors during the three days, it was evident that this year was a huge success for all. Many commented on how cohesive the event was this year in its layout and how the friendly and relaxed atmosphere provided the perfect platform to conduct business. We look forward to seeing everyone again next year."
Penny Franks, Editor, Nursery Today
"I really enjoyed the show this year and had lots of press meetings. I liked the layout of the halls and there was a warm and friendly atmosphere throughout."
Kerry Haynes, Media Snug
"We both found the show to be very well put together with lots of new and exciting products. The atmosphere was very positive, with retailers and suppliers working well together to give consumers what they want. The market is now moving to another level which is well and truly exciting keeping us retailers on our toes. Were' both looking forward to the next show."
Jas and Jag Dalheley, Reyners Discount Nursery