Concept and Innovation Awards
Do you have an innovative product idea?
15/05/2023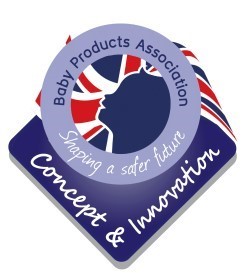 The Baby Products Association is calling for entries to its 2023 Concept & Innovation Awards
Are you a company planning to launch an exciting new product later this year? Or a parent who has come up with a solution to a problem you experienced with your own baby? Or maybe you are an innovator who has seen parents struggling and thought of a great product idea to help. Over the years, winners of the Baby Products Association Concept & Innovation Awards have included all of these – and numerous great products are now on the market as a result.
To name a few previous entries – last year's winner Jennifer Lake with BugGrip, a device to connect articles such as strollers, shopping trolleys and scooters: Sandsliders – a simple mechanism to make pushing a stroller on sand easy: Squirrel – an instant formula feeding dispenser to fit everyday wide neck feeding bottles: Rockit a portable device to rock baby to sleep in a stroller or pram: and Kiddirail – a child-sized handrail for stairs.
Products such as these are all making a difference in the world of parenting – and if you have a similar great idea, the Association would love to hear from you. Entry is completely free. Simply download the ENTRY FORM, complete and return to Julie Milne at julie@b-p-a.org no later than 18th August 2023.
Shortlisted entrants will be invited to present their ideas to a panel of expert judges; whilst three finalists will be invited to attend Harrogate International Nursery Fair in October where the winner will be chosen and announced.
More information about this award can be found here.