Concept and Innovation Awards
Concept & Innovation Award winner announced
25/10/2022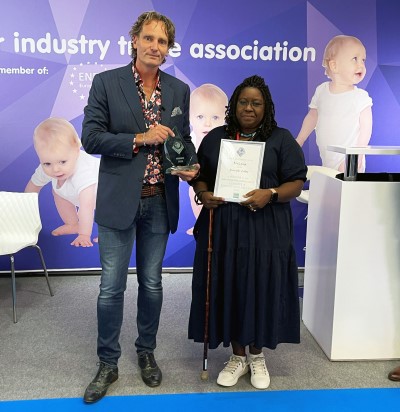 The Baby Products Association announced the winner of its 2022 Concept & Innovation Award at Harrogate International Nursery Fair today. This is Jennifer Lake with BUG Grip, a clamping device that can immediately create a double buggy or connect a scooter, trolley or similar product with a quick twist and click of its universal head.
Jennifer was presented with her award by Marc Hardenberg, chair of the Baby Products Association, who commented: "All three finalists had incredibly inventive ideas this year and the judges had a really difficult time deciding which entrant would be the overall winner. However, BUG Grip stood out as a solution to an everyday problem faced by many parents; it is a clever design and it was felt that the product has the potential to be extremely marketable."
Jennifer will receive a prize of free legal advice from the award sponsor, law firm 3Volution.
The two runners up were Gregorz Krynicki with KneeGuardKids – a foot rest for children carried in car seats which is attached to the car and not the car seat; and Katharine Paterson with Karekot, a soft-sided, breathable, washable cot bed with a unique drop side mechanism.