BANTA
BANTA WINNERS ANNOUNCED
16/10/2022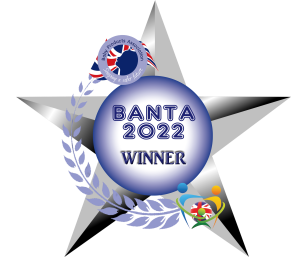 After much deliberation by judges, the Baby Products Association has announced the winners of the 2022 Baby and Nursery Trade Awards (BANTAs). These industry awards, sponsored by Nursery Today, are open to exhibitors at Harrogate International Nursery Fair and aim to point retailers and buyers in the direction of products, which in the judges' opinions are best in the show in terms of quality, value and style.
This year, with the impending recession and cost of living crisis, consumers are seeking affordable products and the judges have considered this when choosing the winners, which are as follows:
FURNITURE
WINNER: Casa Tomara - miniuno Yumo Multiplus
Judges' comments: A multifunctional product which has many additional features to similar products on the market. It is easy to use and a great price point
HIGHLY COMMENDED: Magicbaby – Saluzzo Furniture Set
TRAVEL
WINNER: Recaro – Recaro Lexa Elite
Judges' comments: One of the few, attractively priced, lightweight strollers on the market which incorporates a reversible seat
HIGHLY COMMENDED: Cosatto - Giggle Trail
SAFETY
WINNER: Kiddie Rail
Judges' comments: A standalone safety products, with nothing similar on the market
HIGHLY COMMENDED: Cheeky Rascals – Fred Screw Fit Clear View Stairgate
TEXTILES & SOFT ACCESSORIES
WINNER: MuslinZ Sensory Swaddles
Judges' comments: Great value, organic and eco-friendly in trending designs
HIGHLY COMMENDED: Kiki & Sebby muslin products
IN THE NURSERY
WINNER: Clevamama ClevaPure Salt Lamp and Humidifier
Judges' comments: A multifunctional night light with holistic benefits
HIGHLY COMMENDED: Vtech Electronics – Leapfrog LF920HD 7" Video Monitor
BABY ESSENTIALS
WINNER: Done By Deer – Cozy Lounger with activity arch
Judges' comments: neutral on trend colours bringing a new dimension to the traditional baby nest
HIGHLY COMMENDED: Ziggle Baby – Cosatto Waterproof Drible Bibs
TOYS & EDUCATIONAL
WINNER: Halilit – TAF Toys Newborn Kit
Judges' comments: numerous developmental elements providing varied activities for babies and at a good price point.
HIGHLY COMMENDED: Infantino – 2-in1 Tummy Time and Seated Support
CHILD CARRIERS
WINNER: Infantino – Stay Cool 4-in1 Convertible Carrier
Judges' comments: Realistically priced 4-in-1 carrier featuring advanced cooling fabrics
HIGHLY COMMENDED: Baby Central – Dreamgeni SnuggleRoo Baby Carrier
BEST NEW PRODUCT
WINNER: CHICCO MYSA
Judges' comments: super-lightweight, easy to use, full of additional features and a good price point
HIGHLY COMMENDED: Cuddle Co – Aria Rattan 7 piece Nursery Set