ABC Kids Expo, Las Vegas News
Grow worldwide business opportunities
25/04/2013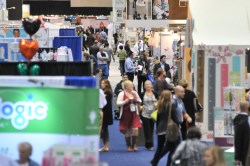 BPA members have established a firm base in European markets thanks to their participation in the UK Pavilion at Europe's largest nursery trade show, Kind und Jugend. However, many of these British companies are also looking to spread their wings further afield and ABC Kids Expo in the USA offers the perfect platform to reach retailers and buyers from around the world; North and South America and Canada in particular.
The BPA will be hosting a UK Pavilion at the show for the first time in 2013 and owing to its venue at the Las Vegas Convention Center from 15th to 18th October, you will be forgiven for thinking that ABC Kids Expo will simply be a 'jolly' this year. However, whilst this is hopefully true to an extent, the on-going show statistics suggest that there is lots of serious business to be done too.
ABC Kids Expo 2012, which took place in Kentucky, boasted over 10,000 participants with buyers
attending from 66 countries ranking it in the Fastest 50 Growing Trade Shows in North America in the Trade Show Executive. Now in its 11th year, the combination of tried and tested word of mouth experience, together with an active international marketing strategy is confirming this show's place on the map and is the place to be for companies wishing to attract buyers from outside Europe.
The last time ABC Kids Expo was hosted in Las Vegas, almost 30% of buyers attending were from Canada with a significant proportion attending from Mexico, Brazil, Guatemala, Columbia, Chile and Puerto Rico. There was also a good attendance from Asia and Australasia with a high number of buyers from Australia, South Korea, China and Japan.
Simons Anslow, UK Pavilion Las Vegas organiser, comments: "The BPA has done its research and it believes that ABC Kids Expo offers a fast-growing market which members will benefit from tapping into. This together with UKTI individual grants of up to £2000 per exhibitor and the low cost of hotel accommodation available around the venue makes this an extremely attractive new business opportunity for any company hoping to increase its profit margins for 2014."
For more information about joining the UK Pavilion in Las Vegas and how to apply for UKTi Funding, contact Simon Anslow on 01902 882280, email: simon@nurseryfair.com or visit the BPA website at www.thebpa-eu