Latest News
BANTA Shortlist Announced
20/03/2013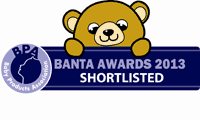 After much deliberation, the BPA's Baby and Nursery Trade Awards (BANTA) judges have announced the shortlist of entries which will beinvited to the final stage of the judging process at Harrogate Nursery Fair on Sunday.
Julie James of the BPA comments: "We had numerous BANTA entries this year and the quality and diversity of products presented was quite outstanding. The judges were tasked to look at a number of criteria including innovation, marketability, safety, consumer appeal and value for money and the 49 shortlisted entries chosen were the overall consensus of the entire panel."
The following companies are asked to bring their products to the judging area on Saturday 23rd March ready for the final judging on Sunday 24th March. The winners will be announced at the Party and Awards evening on Sunday at the Majestic Hotel, Harrogate. Tickets for this event are almost sold out so if you would like to attend, please email: robert@nurseryfair.co.uk
View the shortlist HERE.