Trade Shows
Focus on world markets
22/10/2012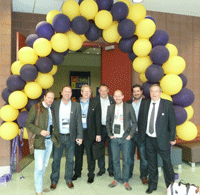 A BPA delegation travelled to Louisville, Kentucky, USA in October to explore the country's only nursery trade show – ABC Kids Expo.
Now in its 10th year, ABC has almost 850 exhibitors and more than 12,000 total attendees. With a return to Las Vegas next year, the 2013 show looks set for even further growth and the BPA is definitely considering a UK Pavilion, presenting new business opportunities for its members.
Robert Anslow, BPA managing director, comments: "We would like to thank the ABC organisers for their fantastic hospitality. The entire BPA team was impressed with the size and scale of the show and can certainly see the benefits of staging a UK Pavilion at ABC next year."
According to feedback from members, expanding into international markets is certainly the way forward for the BPA and whilst in the USA, the team took the opportunity to meet with organisers from baby trade shows in India and China. Both of these markets should not be underestimated and the trends and statistics presented showed the incredible extent of opportunities for companies entering these markets.
For example, even with its 'one child policy' the population of 0-12 year olds in China exceeded 200 million by the end of 2011 and 15 million new-borns are being added to this figure each year. In fact, the beneficial impact of this policy equates to a far higher spend per single birth due to the focus of attention onto that individual child and the combined purchasing power of six adults including parents, grandparents and great grandparents; with just one child to invest in, families are trending towards higher end products and a 'monies no object' attitude.
Retail sales for baby and children's products in general reached $180 billion among which 0-3 years products generated $45 billion in revenue with an annual growth rate of 15%. By 2015, the market size for 0-3 years is expected to exceed $83 billion; and with the Chinese consumer trend for British branded products, it is certainly a factor for UK baby products companies to consider.
Children, Baby, Maternity Expo (CBME) is in its 13th year and takes place in Shanghai from 17th to 19th July 2013 promising 138,000 square metres of exhibition space housed in 12 halls, 1400 exhibitors covering 2100 brands and an estimated 60,000 visitors – and is certainly on the BPA's agenda for a visit next year.
With the Indian baby products market displaying similar trends to China, another show to watch is the new CBME India which launches at the Bombay Exhibition Center in Mumbai from 11 April to 13th April 2013.
Robert continues: "Organising just one UK Pavilion at Kind und Jugend in Cologne is hugely time-consuming for the BPA team, so whilst we have aspirations of taking members into all of these new territories, logistically we have to take it one country at a time and it looks set for Las Vegas next year."
Representatives from ABC, USA are looking to have a presence at Harrogate Nursery Fair in March 2013 which may potentially include a small US Pavilion. CBME Shanghai have also expressed an interest in attending so British companies will have the opportunity to gain more information at the show.