Trade Shows
Credit to the UK nursery industry
25/09/2012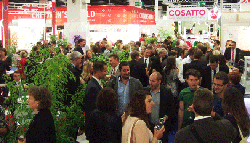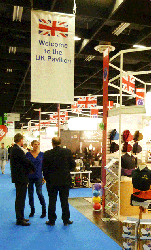 Kind und Jugend 2012 exceeded all expectations for the 50 BPA members participating within the UK Pavilion, who can be justifiably proud of the immense impression they collectively made on baby products industry professionals around the world.
The UK Pavilion was not only the prominent feature of Hall 11.1, but was without doubt the largest independent Pavilion throughout the entire show. The central Networking Arena proved a magnetic pull for visitors with the constant buzz of business exchange, networking and socialising.
This united British effort has not gone unnoticed and the BPA team was approached by a number of international show organisers requesting a similar presence at exhibitions in Dubai, Japan, India and the USA to mention just a few. This is certainly an option for the future and may well be the way forward for the BPA and its members.
Thanks to the support of the UKTi, for which the BPA is the Accredited Trade Association (ATO), there were a number of enhanced activities this year not only for the benefit of the members participating in the UK Pavilion, but for all British exhibitors at Kind und Jugend. The prominent British branding made the Pavilion a focal point of the hall, whilst the introduction of the UK Pavilion Directory was welcomed by many, with a clear and concise map of the Pavilion proving a godsend for visitors trying to navigate from exhibitor to exhibitor. Over 1,000 of these were distributed from the Pavilion alone – as well as at numerous other distribution points at the show – and will no doubt act as a reference tool for buyers in the future when locating product information and exhibitor contact details.
The BPA Networking Event, which has been a feature of BPA's enhanced activities since the UK Pavilion's conception four years ago and originally just for Pavilion participants, was rolled out to a much wider audience bringing together over 250 individuals from British exhibitors, international buyers and member of the press . This event remains the highlight of Kind und Jugend for many UK Pavilion exhibitors, particularly those new to the show, as it provides an opportunity to make valuable new business contacts and share tips and information which, going forward, help make a success of their time at Kind und Jugend. From past experience, the friendships sealed at this event are priceless and will continue for decades to come.
Robert Anslow, BPA managing director, comments: "The UK Pavilion this year was a massive credit to the BPA and all of its members and I have received compliments from Koelnmesse and numerous colleagues from around the globe. I would like to congratulate all 50 companies participating as well as the BPA's organising team, which has collectively raised the profile of the UK's nursery industry. We look forward to an even bigger and better UK Pavilion in 2013!"
This year the UK Pavilion was completely sold out and as the BPA is required to confirm its space requirement for Kind und Jugend 2013 by the end of October, all companies interested in participating are requested to contact Adrian Sneyd as soon as possible at: adrian@nurseryfair.com or call 01902 880906.

Here's what our exhibitors say:

"BundleBean had a fantastic four days at Kind und Jugend resulting in many new leads, positive meetings with existing distributors and closing several more. Being centrally located within the UK Pavilion has been an excellent experience - consistent footfall, a great buzz and, as ever, the unstinting support of the BPA team. Without doubt this has been the most successful trade show for BundleBean and we look forward to next year." Emily Goodall, BundleBean Ltd
"We love trading on the UK pavilion, not only because we share various agents with other UK companies but because of the Team GB spirit!" Helen Bristol, Skibz
"Please convey my thanks to the BPA team for making the show such a success for Milton Pharmaceutical UK. Our French contingent who flew in certainly knows now how a show should be run! In excess of 70 very good leads from 34 countries say it all! We would not consider anything else but the UK pavilion." Steve Riley, Milton Pharmaceuticals
"Thanks for a great show. The UK Pavillion was nicely signposted right from the entrance and was well laid out with excellent positioning around the seating and coffee areas. The Networking Event gave us the opportunity to share information and review our approaches. As for the results - we had enquiries from 21 countries on four continents. Orders were also placed and realistically we have exciting distribution opportunities into three new territories to develop. As a small company seeking to expand globally, this show is a key part of our reaching out. Without the BPA's UK Pavilion this would have been much harder work – Thank you!" Paul Baines, My Buggy Buddy
"Although we felt that Kind und Jugend was generally quiet this year, we were still lucky enough to gain around 20 good leads. If previous years are anything to go by then we would be happy if 5-10 of these progress to a strong partnership. Overall we're very pleased - thank you!" Darren Jenner, My Carry Potty
"Kind und Jugend was once again a great success for Pourty and we will definitely be booking again with the BPA next year. The UK Pavilion seemed to attract traffic throughout the show and it is always good to be able to share ideas and information with fellow exhibitors at the show and in town in the evening. Our new Flexi-fit Toilet Trainer was well received by our existing distributors, some new distributors and some major retailers in Germany and Japan. It only takes one or two key accounts at the show to make it worthwhile and we would hope to convert more than that once again this year." Jon Rathbone, Pourty
"This was Ruk Bug's first time in Cologne and the show proved to be well worth doing with a high number of high quality leads to follow up even from the last day. It was great to meet others and put names to faces and the sense of camaraderie amongst the UK Pavilion was fantastic.Organisation of the whole thing removed a lot of stress and thanks to everyone at BPA for the support. Great show, good fun and will be there next year." Russell Clifton, Ruk Bug
"Thanks so much for making the UK Pavilion such a great success - it was pretty amazing to say the least! George and I thoroughly enjoyed ourselves and on the 'business front' we achieved some great new contacts in our target territories, so hopefully our flock will be spreading even further across the globe!" Lynda Harding, Sweet Dreamers
"A big thank you to the BPA team for your endeavours behind this year's Kind und Jugend. The Pavilion looked much the best that it ever has and, in comparison to other Pavilions, was HUGE! It's great that so many BPA members felt the benefit of the joint approach - this being our 8th year at the show, I feel I can really say this from hard-won experience! The signage was much improved and the floor stickers worked well. We had a great time – and made excellent contacts – not to mention taking a record number of orders, so fingers crossed for converting the distributors to our way of thinking and expanding the Totseat family still further. Many thanks indeed to all concerned." Rachel Jones, Totseat
"Chillipeeps had another brilliant Kind und Jugend within the fabulous BPA UK Pavilion, where the new look individual stands were superb. What I love about being a part of the UK Pavilion, is the fact that many exhibitors come especially to look for British products and that once a year it gets the British companies together allowing us to get to know each other better and swap ideas – invaluable when growing your business. I have certainly found it a great support to venture to international trade shows as part of the group and I look forward to the UK Pavilion at the ABC show." Claire Mitchell, Chillipeeps teats
"Our stand was buzzing and we had unbelievable interest in our new Sneaker Mocc Ons range and our ever growing Sock Ons range. It was great to meet our international distributors and get positive leads from the show. Overall Kind und Jugend was really successful and we were very happy to be part of the BPA UK Pavilion. See you next year!" Tammy Maxwell, Socks On
"It was our first time at Kind und Jugend and I don't think we could have asked for more – support from the BPA was fantastic, reception to our product was great, we met hundreds of fantastic contacts and future partners and we even picked up an Innovation Award in the World of Baby Safety at Home. The show massively exceeded our expectations and we will definitely be back next year!" James Hunt, BabyPing
"Thanks for the help and support given to me as a first timer in the UK Pavilion at Kind und Jugend. The show was vibrant and busy over the four days. General camaraderie and exchanging of useful info between others on the UK pavilion were added unexpected bonuses. I have many leads to follow up and have already taken orders on the back of these from new customers in new territories. I will definitely be returning next year!" Josu Shephard, Jakabel Ltd.
"I just wanted to say a big thank you to you and all of your team at the BPA in Cologne for making the UK Pavilion such a success. I thought you guys did a great job, before and during the show and we really did enjoy a very successful show with good orders for product and interest all round for our new launches. The UK Pavilion at Kind und Jugend is a very important trade event for us now and we shall be returning next year for sure." Jouko Nykänen, Sunproof Limited