Latest News
ENPC appoints secretariat
01/12/2011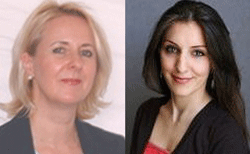 The European Nursery Products Confederation (ENPC), founded in June this year, has appointed a secretariat and is now fully up and running with new offices in Brussels.
The new team consists of Maryke Hanneman and Marine Ejuryan who began her internship with ENCP in mid-November. Maryke has a Master's Diploma in European Commercial Law and also has experience in the lobbying on EU Law in respect of advertising and marketing to children and advertising to adults which might appeal to children, for example food, confectionery and alcoholic beverages.
Marine has a Masters' Diploma in EU International Relations and Diplomacy Studies and also has a Master's degree in European Studies. Both Maryke and Marine are multi-lingual, between them speaking English, French, Italian, Dutch, German, Turkish, Russian and some Spanish so the majority of callers to their office can be confident that their query will be dealt with effectively.
The ENPC, which combines nursery trade associations from around Europe including Italy, France, Spain and the UK's BPA, aims to provide support and services for members at a European level to manage legislative activities and be involved in the preparation of high quality standards to continuously improve safety.
The ENPC secretariat can be contacted on +32 2514 2412
Pictured: Maryke Hanneman (left), Marine Ejuryan (right).