Trade Shows
UK Pavilion success
30/09/2011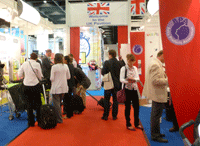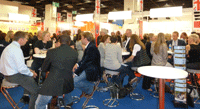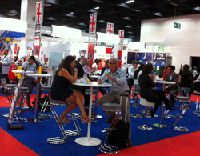 The UK Pavilion organised by the Baby Products Association at Kind und Jugend this year was deemed an outstanding success by the majority of companies exhibiting. With more companies participating than ever before, there was a truly united British presence and the UK Pavilion branding proved a magnet to numerous visitors from around the world arriving to see what BPA members had to offer.
Rachel Jones from Tot Seat commented: "A good experience all round! Having exhibited alone at Kind und Jugend for the last five years, our experience last year nearly put us off exhibiting. I am so glad we were persuaded and will exhibit on the UK Pavilion again. The organiser, Adrian Sneyd, was excellent, the layout was hugely improved on last year and it was easy for distributors to see many of us all in one place."
Cosatto Ltd also felt that being part of the UK Pavilion was a huge benefit to business with Andrew Kluge, CEO, commenting: "The Fair was good for Cosatto overall with a great deal of interest from all around the world. There is no doubt in my mind that being part of the BPA UK Pavilion was a definite benefit to Cosatto in that the position was great. The UK identity was useful and also the support available from the BPA team was at times very handy. We will definitely be part of the UK Pavilion when we show again."
A unique aspect of the UK Pavilion was the centrally located coffee meeting area which provided a friendly base for both exhibitors and visitors to relax and mix business with a bit of pleasure. On the first evening of the show, the BPA invited all exhibitors on the UK Pavilion to a wine reception which was well-attended and enjoyed by all, offering a chance to share first day experiences and network with like-minded colleagues from the industry.
Anna Dickson of Mummy Mitts exclaimed: "Well what can I say?! Is work supposed to be so much fun? What a ball. We had a lot of fun and so many fantastic leads too. I can honestly say, the BPA created a family affair, which made you feel oh so much happier to be there and do so much great business. Thank you to the BPA – you are worth every penny!"
Here's what other UK Pavilion exhibitors have to say:
Di Mayze – Buggy Tugg
"It was my first time exhibiting at Kind und Jugend and I was very pleased to be in the BPA Pavilion amongst some old timers and experts! I have had some great leads from the show and am currently in conversation with distributors from 6 countries who would like to take BuggyTug and TugTrio on. I'm definitely rebooking and am sure will be fluent in German by then!"
Paul Baines – My Buggy Buddy
"The UK Pavillion worked very well for us. We had the support and encouragement from other UK companies that we are growing with and were able to share contacts and information. It also gave us the chance to share advice and pick other companies brains!
"A far as business goes Kind und Jugend was an opportunity for us to consolidate sales in some countries we already supply but gave us the platform to seek distributors and sales outlets in other countries. We also managed to showcase two new products which were well received. We have come back with leads from 19 different countries and some confirmed orders. I have no doubt that our brand and business will have grown as a result of our involvement at Kind und Jugend."
Jon Rathbone – Pourty
"Pourty thought that the Pavilion worked very well this year. Although there seemed to be quite a lot fewer visitors than last year, the quality of the people visiting our stand was much higher. I just hope that we can convert all those positive leads. I am sure we will back on the Pavilion next year."
Helen Bristol – Skibz
"This was Skibz second year on the BPA pavilion and we were really impressed with everything from the signage on the entrance steps to the central meeting area. The real boost is the camaraderie, support and fun of colleagues with the added bonus of having the BPA organisers in situ to help with any queries."
Mary Sayer – SnoozeShade
"This was our second visit to Kind und Jugend and our second time in the UK Pavilion. We definitely feel is it preferable to be part of the UK contingent as the Pavilion makes it much easy for visitors to find and learn about British products.
"There's a very good sense of camaraderie amongst UK exhibitors who often point visitors in the direction of other products on show in the Pavilion that they might be interested in. The show is an excellent opportunity for us to help grow our business by meeting distributors and retailers from countries in which we would like representation, as well as meeting up with our existing distributors who visit the show to meet their suppliers. We look forward to exhibiting in the UK Pavilion again next year."
Jouko Nykänen - Sunproof
"Sunproof had a very positive experience at the UK pavilion of the Kind and Jugend exhibition.
"The British Pavilion made a big difference; Sunproof and Koolsun have together exhibited at Kind & Jugend since 2006 and have previously experienced frustration at dealing with such issues as being put into a position with abysmal footfall.
"The BPA organised a pavilion that was roomy, well laid out and the UK exhibitors collectively enjoyed being all in the one place together. It was a case of the whole being larger than the sum of the parts. We all enjoyed a higher profile and hopefully more sales and leads despite the show appearing quieter than in previous years.
"The free coffee vouchers were also quite appreciated, especially on the Sunday morning after the legendary exhibitors' party on the Rheinterasse!
"Sunproof and Koolsun will definitely be returning in 2012. Well done to the BPA for hauling together a proper British Pavilion at last, something that the English exhibitors had been hankering after for years."