Latest News
More funding for members
13/04/2011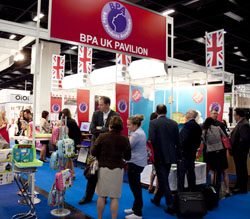 The Baby Products Association (BPA) is delighted to announce that its request for additional grants from the Tradeshow Access Programme Support Scheme for Overseas Exhibitions (TAP) has been granted, allowing a further five members to receive support to exhibit at Kind und Jugend this year.
The BPA was already allocated 20 grants, but this has now been increased to 25 with a possibility of further grants at a later date.
Adrian Sneyd, who is organising the UK Pavilion at Kind und Jugend on behalf of the BPA, said: "This is fantastic news for BPA members who want to exhibit at Kind und Jugend this year, particularly smaller companies which find the cost of exhibiting restrictive.

"Grants have been allocated on a first-come-first-serve basis and this new injection of funding means that five more companies on the waiting list will now have the opportunity to participate in the UK Pavilion at Kind und Jugend."
Now in its third year, the UK Pavilion is set to be even larger this year than before and we have secured an excellent location in Hall 11.1 guaranteeing the pavilion will be a major feature and a 'must-see' for many visitors. The UK branding gives participants a united front and, particularly for smaller companies which might otherwise be lost in the cavernous halls, the presence of a much larger entity.
Space inside the Pavilion is about to be allocated and is limited, so if you would like to receive further details about exhibiting, please drop Adrian an email to:
adrian@nurseryfair.com
.