Latest News
BANTA winners announced
28/03/2011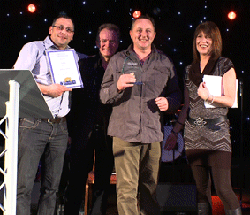 An air of celebration resounds through the halls of Harrogate Nursery Fair today as the winners of the Baby and Nursery Trade Awards (BANTAs) were announced during a prestigious ceremony at the Majestic Hotel in Harrogate last night.
More than 300 products were entered into the awards and exhibitors at Harrogate Nursery Fair eagerly awaited the results of the judging, which took place during the show yesterday.
Robert Anslow, managing director of the Baby Products Association (BPA), which hosts the Awards, commented: " The quantity and quality of entries was overwhelming this year and the judges had a difficult task comparing and selecting a shortlist from an extremely diverse range of products."
The winners of the seven categories were announced by comedian Bobby Davro, who provided hilarious entertainment at the Harrogate Nursery Fair Party, prior to knuckling down to the slightly more serious task of announcing the winners. Five products were short listed in each category, with one Highly Commended and one overall winner. These were presented with trophies by Penny Franks, editor of Nursery Today, which sponsors the BANTAs.
The results are as follows:
Travel & Sleep Category:
Winner: Saplings - Glideaway Cot Bed
Highly Commended: Safe Dreams – Cot Wrap
Shortlisted: Cheeky Rascals – Bubblebum Booster Seat; Content & Calm – Traykit and Natures Purest – Eco Rocking Crib
Playtime & Bath Time
Winner: Tippitoes Ltd – Nikki Bug Activity Mat
Highly Commended – OXO Tot – Tub Kneeling Mat
Shortlisted: Hippychick Ltd – Moovers Doll's Pram; Tomy – Play To Learn Mr Colour Maker; Bibs and Stuff – Skip-Hop DUNK
Child Restraints
Winner: Dorel UK – Maxi-Cosi Opal
Highly Commended: MyChild – Cocoon Group 0,1 Car Seat
Shortlisted: Concord – Transformer T; Kiddy – Guardian Pro; Recaro – Recaro Young Profi Plus
Feeding & Sucking
Winner: Perfectly Happy People – My All Grow'd Up Cup
Highly Commended: Chillipeeps – Chillipeeps Teat
Shortlisted: OXO Tot – Training Cup; Koo-di – Insulated Bottle Holder; Bibs and Stuff – Skip-Hop Bento Mealtime Kit
Wheeled Goods
Winner: Bugaboo International – Donkey
Highly Commended: Concord – Neo Quantum Travel Set
Shortlisted: Dorel UK – Maxi-Cosi Elea; Chicco UK – Echo Stroller; Baby Jogger – City Select Stroller
In Home & Safety
Winner: OXO Tot – Sprout Highchair
Highly Commended: Concord Rio Baby Rocker
Shortlisted: Splash n Bump Ltd – Bath Bumper Set; Tomy – Digital Video Monitor TDV450; Tippitoes Ltd – Doorway Bouncer
Best Debut
Winner: 2012 Ltd – Pipila Pacifier Steriliser
Highly Commended: Dorel UK - Safety 1st PrimeoFix
Shortlisted: Chicco UK – I-Move Pushchair; Rochingham – GreenBear Eucalyptus Baby Mattress; Baby Jogger – City Mini 4 Wheel Single Stroller