Members News
Welcome to Cheeky Chompers
06/05/2014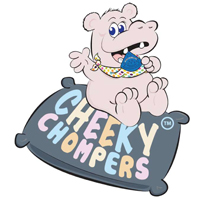 The BPA is delighted to welcome Cheeky Chompers to membership – a relatively new company which launched its innovative Neckerchew in 2013.
The Neckerchew is the brainchild of two Edinburgh mums, Julie Wilson and Amy Livingstone. Julie explains: "When Amy and I met friends with babies, we all seemed to spend half our time picking up and re-sanitising dropped teethers. It was the simplicity of our initial idea that was so appealing. Why not create a teething product that is attached to the baby?"
Once the gap in the market was identified, Amy and Julie set about developing their product and Cheeky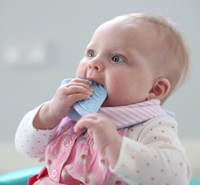 Chompers was formed in May 2012.
After experimenting with various designs, it became clear that the practical advantages of dribble bibs, plus their popularity, made bibs the natural design solution and consequently the teether / dribble bib design.
Manufactured in the UK, the Neckerchew is made from soft jersey cotton that is delicate on young skin, but highly absorbent. It also has a special absorbent middle layer to keep dribble and moisture away from small chests and reduce irritation. The textured triangle shaped teether at the base of the Neckerchew has been developed in a specialised silicon and uses an innovative design to massage and sooth tender gums.
Amy comments: "Our objective with Neckerchew was to create a teething product that looks stylish and fashionable but above all is practical and works. It needs to be durable and absorbent, but most importantly comfortable and soothing for babies and young children."
For more information about Cheeky Chompers, visit the website at www.cheekychompers.com or email: info@cheekychompers.com