Latest News
September is the US Baby Safety Month
28/07/2021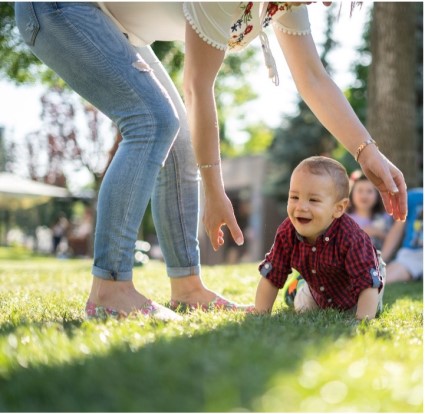 The Juvenile Products Manufacturers Association (JPMA), which is the US equivalent of the Baby Products Association, is once again sponsoring the US Baby Safety Month in September. This year, the JPMA is helping to educate parents and caregivers on the safe selection and use of baby products. It is also encouraging the wider community to become safety ambassadors through civic engagement.
Parents and caregivers have many responsibilities but keeping baby safe and healthy is a number one priority. Whether people are expecting a first baby, adding to a growing family, or becoming a grandparent, Baby Safety Month offers simple steps to keeping babies safe. By following guidelines, families will be equipped with the knowledge to create a safe space for babies to grow, learn and play.
The online guide provides practical support with basic advice regarding obvious hazards such as electrical sockets and blind cords; and not so obvious items such as dishwashers, hanging table cloths which can be easily pulled down; and poisonous plants. It also advises additional hazards when expecting a second or third child such as small parts from toys and a toddler's ability to open doors, potty lids and cabinets.
The guide echoes the Association's advice and recommends ensuring that all products purchased for a new baby meet current safety standards and to avoid buying second-hand products if possible. If second-hand goods are used, then it is essential to check that all of the parts are available, the product is fully functional and not damaged or broken and that it hasn't been recalled. It also advises that not only the baby's own home is safeguarded, but any home that it may visit regularly such as grandparents, or a babysitter.
There are four concise categories of the guide: Basic Safety; Bathroom Safety; Car Seat Safety and Safe Play Time – plus an informative video.
Get involved
The JPMA is encouraging both retailers and manufacturers to get involved with Baby Safety Week and offers a number of online resources to help spread the word. This includes a social media info guide, social media messages, social media images, an ambassador brag badge, educational videos, and a template press release.
It is also organising contests such as a Best Baby Photo Contest showing products being used properly and according to instructions; plus a weekly prize bundle with the JPMA. In the past the giveaway programme has received tremendous engagement and proves the highlight of Baby Safety Month among parents. Companies wishing to participate in the prize bundle giveaway can contact: achezem@jpma.org (no later than 15th August 2021).
More information on the website HERE.