Latest News
Hot topics for Harrogate
05/03/2019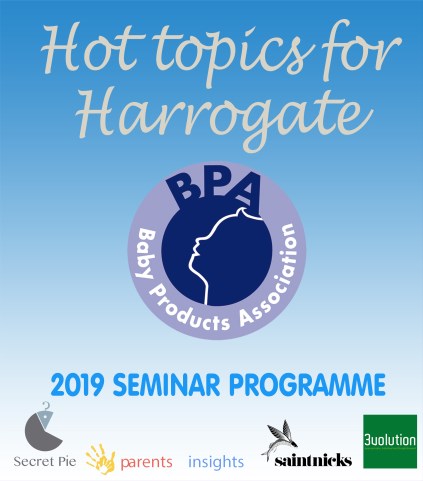 The retail environment creates a roller coaster of challenges and stocking a fantastic range of products certainly helps to boost your business; but knowing what makes your customers tick and how best to communicate messages to them is vital too.
The Baby Products Association has once again organised a fantastic line up of speakers for its Seminar Programme atHarrogate International Nursery Fair all delivering subjects which can help with business in the nursery industry – whether you are a manufacturer and supplier; or a retailer.
Fraser Bradshaw of creative agency saintnicks will explore the role of brands to consumers and how they can keep their relevance in a world of over-supply, outlining the key steps to strengthening brands and achieving sales growth on and offline. Fraser is a retail private equity investor with over 25 years' experience in commercial management and strategic marketing and was formerly managing director of global advertising agency McCann Erikson.
Jonathan Watson and Nick Richardson of The Insights People – a market intelligence company specialising in the kids, parent and family sectors work with some of the biggest brands in the world. They will give visitors to Harrogate a heads up on consumer trends in the nursery sector and an insight in how they can engage with consumers effectively and encourage sales in an ever-changing, highly competitive market place.
With the explosion of social media in engagement in recent years, Ross Hewitt of Secret Pie
will explain the importance ofsmart social media planning. His presentation will cover how a retailer can get organised with social media content and begin to create a content plan that will help them to stay focussed on messages to their existing audience as well as attract new followers. He will also explore content ideas and will give suggestions on how to get a person to move from the digital platform into a real-world store.
Finally, BREXIT isn't far from many of our thoughts and with just a week from the show until the UK intends to leave the European Union, it will no doubt be a hot topic raising a lot ofuestions. Sara Ludlam from leading law firm 3Volution will explain the possible implications for companies in the nursery industry from a commercial and intellectual property perspective.
The Seminar Theatre is located in Hall Q of the Harrogate Convention Centre and seminars will take place on Sunday 24th and Monday 25th March. Free to attend, full details and times can be found on the website HERE .