Members News
Little Chick London scoops an award
05/07/2017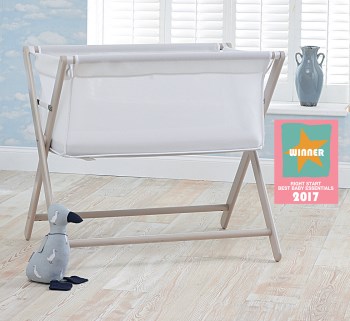 Little Chick London is celebrating once again, having just scooped a Right Start Best Baby Essentials Award for its innovative bedside crib.
Rachelle Harel of the company said: "We are absolutely delighted. The Little Chick London bedside crib only entered the market last November and won the BANTA In-Home Award at Harrogate International Nursery Fair prior to its launch in 2016. We have received some rave reviews about the product from bloggers and consumer magazines which have trialled the crib, but to win a Right Start Best Baby Essentials Award is a great accolade indeed."
Little Chick London's bedside crib has been designed to offer all the benefits of co-sleeping but without the associated risks of suffocation. Stylish and practical, it has completely breathable mesh sides allowing optimum airflow and temperature control. Placed beside the parent's bed, mum can experience closeness and see her baby clearly throughout the night, safe in the knowledge that it is contained in its own secure environment.
The crib takes a standard sized mattress and can be conveniently folded for storage. When partnered with Little Chick London's breathable crib mattress, it offers a completely breathable sleep solution.
Available in cool white or soft grey Little Chick London's bedside crib retails at just £99.99.
For more information email: hello@littlechick.london