Members News
Need an extra pair of hands?
16/06/2017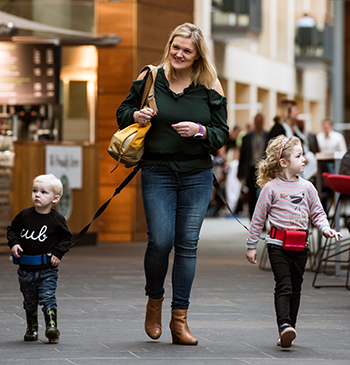 When parents are out and about with their little ones, it can sometimes feel like they need ten pairs of hands and eyes in the back of their head? Well help is now at hand with Adventure Belt, the brainchild of mum, Lucy Bostock
The distress of being separated from a child in a busy location is an experience many parents can relate to – including Lucy Bostock, the founder of More 2 Explore. During a day out to Legoland with her 5 year old son, she found herself separated from him for a short time. Luckily, her son was quickly found, but Lucy knew she never wanted to relive the experience. Thus, Adventure Belt was born: a child friendly safety reign for ages 2 and up.
The Adventure Belt connects parent to child via a hands-free system – both the parent and child wear a comfortable belt. When a potentially dangerous situation arises, the bungee can be linked first to the adult belt, then the child's belt – ensuring the child is kept safe and close. Once the danger has passed, the bungee can simply be unclipped!
The easy to use system ensures little ones are kept safe whilst still allowing them to have independence and explore, whilst the parent is given peace of mind in potentially dangerous situations, such as in crowds, by water, in car parks or on railway platforms.

The company so far has received a national award for innovation from the Baby Product Association, at the Harrogate International Nursery Fair, and has recently been shortlisted for the Best Baby & Toddler Gear Awards. Founder Lucy explains 'My vision is to give parents the confidence to visit new places by ensuring they can keep their children safe'.
Adventure Belt is currently available from www.more-2-explore.com. For more information visit http://www.more-2-explore.com or Like us on Facebook https://www.facebook.com/more2explore1. To become a stockist please email adventure@more-2-explore.com. You can also see our You Tube video here https://youtu.be/Sp7pSQdQIUY