Members News
Safer sleeping for babies
10/02/2017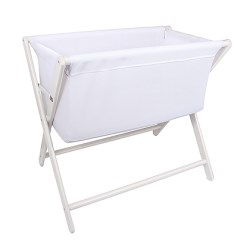 Naturally, new mums want to keep little ones close by at all times and Little Chick London's award-winning bed-side crib offers all of the benefits of co-sleeping but without the associated risks of suffocation.
This practical, stylish sleep solution for newborn babies has completely breathable mesh sides, allowing optimum airflow and temperature control. Placed by the side of the parent's bed, mum can experience closeness and clearly see her baby throughout the night, safe in the knowledge that it is contained in its own secure environment.
Little Chick London's bed-side crib is a contemporary design available in either a soft grey or white frame, appealing to even the most discerning of mums. It is larger than traditional Moses baskets offering a cosy surrounding, yet plenty of space for the growing baby and longevity of use until around five months or until baby is able to pull itself up.
Conveniently, the crib can be folded for storage and the covers can be removed and washed. It takes a standard size mattress and when partnered with Little Chick London's brand new Breathable Crib Mattress, offers a completely breathable sleeping solution.
Winner of the Baby Products Association's 2016 Baby and Nursery Trade Awards (BANTAs) with judges commenting: "This product offers a safer alternative to side sleeping and a new concept to suit modern home décor," be sure to see this fabulous bed-side crib first hand at Harrogate International Nursery Fair – Stand M14.