Members News
Wonderoos hat-trick triumph in Loved by Parents Awards
11/08/2016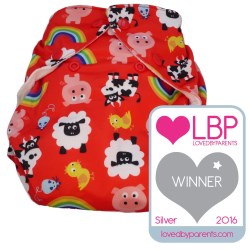 Wonderoos - the washable nappy brand owned by Earthwise Trading Ltd - is delighted to announce that the two washable nappies it manufactures - Wonderoos V3 and Real Easy have scooped three silver Loved by Parents Awards between them. Wonderoos V3 won silver in the Best Reusable Nappy category, Real Easy won silver in Best Nappy Design and Wonderoos won silver in the Best Reusable Nappy Brand category.
Christine McRitchie, brand owner, comments, "I'm so delighted that Wonderoos V3 and Real Easy have been recognised in the Loved by Parents Awards. All the entries submitted are vigorously tested by a panel of experts before the shortlisted products are voted for by the public. The Loved by Parents Awards reflect the quality of our nappies, as well as the support from our customers."
Wonderoos are single-sized pocket nappies that can be adjusted easily to fit most babies from 8 to 35lbs. Wonderoos have a 'stay-dry' lining, waterproof outer layer and two super-absorbent inserts. The inserts are removable to make washing and drying Wonderoos as quick and easy as possible.
Real Easy is a sized All-in-One reusable nappy, designed to be easy on, easy to change, easy to wash – really easy. Real Easy nappies come in several sizes to give the best fit at each stage, and are constructed with a soft micro fleece lining to keep baby feeling comfy and dry, while the thirsty soakers take care of the wetness.
Earthwise Trading focuses on manufacturing, distributing and retailing reusable nappies, and reusable menstrual products, which reduce waste, save money, and work in harmony with nature.