CMBE, Shanghai News
Amazing new China venue draws in record numbers
02/08/2016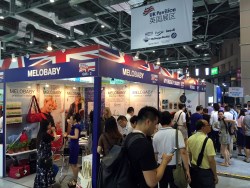 Eight Baby Products Association members have just returned from a mission to discover exciting new markets, thanks to the UKTI which offered extensive support to the group exhibiting in the UK Pavilion at CBME Shanghai in China last week.
Simon Anslow, who organised the UK Pavilion, explains: "The UKTI in Shanghai were hugely supportive, organising visits to Chinese nursery retailers and putting the group in touch with important buyers. They also gave us a valuable insight into Chinese culture and expectations which will not only help the companies participating this time, but this information will also help members trading with China in the future. The Association will be putting together an informative fact sheet."
Once again, the size and dynamics of this show, which is one of the biggest baby trade shows in the world, took the groups' breath away and business was constant and brisk for the entire duration.
Peter Seagrim presented his new product, Milk Monster (which was a finalist in the Association's Concept & Innovation Awards) to the Chinese market for the first time, said: "Our exhibiting experience was very positive; we made lots of useful contacts and received a lot of feedback that is tailored to Asian market to help future product development for this market. Most importantly we have developed relationships and generated leads for distributors and retailers in Asian counties which will help to establish our products in the Asian market."