Members News
Konfidence unveils new swim jacket designs
04/07/2016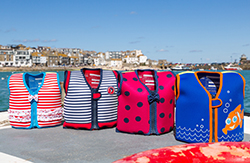 Konfidence has launched a stylish new range of original Konfidence swim jackets that are perfect for little fashionistas planning a trip to the beach or pool.
The four new British designs from Konfidence include boys and girls beach-chic themed nautical stripes, which have been inspired by the company's Cornish heritage. For added flair the girl's jackets also feature pretty bows and frilly patterned detailing.
For those wanting a funkier design, there is also the new pink and navy Ladybird polka style or the vibrant new Scoot the Clownfish character jacket.
James Thomas, operations director at Konfidence said: "We love the new 2016 designs; they are fresh, colourful and add an exciting new fashionable dimension to our Jacket range."
For more than 18 years, the Original Konfidence Jacket has been helping children aged 1-7 years from all over the world to learn to swim safely and with confidence.
The Jacket's British design employs an easy to use eight removable float system, which allows buoyancy to be reduced gradually as children become more confident in the water. Its trademark bright yellow high–visibility back and 100% UV protection have also made it an essential piece of holiday kit.
The new Swim Jackets are available to purchase at www.konfidence.co.uk with a RRP of £24.99. Sizes are available in 18 months – 3 years, 4-5 years and 6-7 years.