Latest News
Concept & Innovation Awards Finalists announced
17/02/2014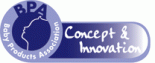 After nail biting presentations to a panel of nursery industry 'dragons' in London last week, four Baby Products Association (BPA) Concept & Innovation Awards entrants have earned the well-deserved status as finalists. Two Concept entrants and two Innovation entrants will be bringing their new product ideas to present to the industry at Harrogate International Nursery Fair in March and the winners of each category will be announced at the show.

In the Concept Award category, Tom and Tamar Clarke who both work in the airline industry and have two little girls of their own, were chosen as finalist for Bag Rider – an interesting idea combining a wheeled cabin bag and child seat. Also a finalist in this category is Catherine Curtis with a clever new twist on co-sleeping with her BabyHub Bedside Crib.

In the Innovation Award category, Jonathan Feingold and Marc Kelly of CuddleCo Ltd were chosen as finalists for their new baby car seat concept Doona; whilst Connie McGarvey also reached the finals with his Waterless Bottle Warmer. Each of these products are almost ready to enter the market and visitors to Harrogate International Nursery Fair are guaranteed to be blown away by the revolutionary nature of both items.

However, there are only two overall winners for 2014 and tension will once again be high at 11am on Monday 24th March when the winners will be announced on the Concept & Innovation stand in the Queen's Pavilion. All products will be on display on this stand for the duration of Harrogate International Nursery Fair so be sure to take a look during your visit as some of these are set to be 'must have' baby products in the coming year.