Members News
Introducing the Platinum Range by Bubbaroo
03/05/2016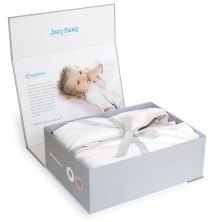 Bubbaroo, known for its high quality, chic and functional sleepwear and nursery accessories launches the new Platinum Range which is unique and encompasses new product offerings using the highest quality fabrics and materials. Each Platinum Range product is beautifully presented in a platinum gift box making the perfect gift. The gift box can then be used to store keep-sakes.

Each and every product from Bubbaroo is thoughtfully created to ensure it is not only 100% safe and functional; it is also premium quality and beautifully designed. Bubbaroo puts safety first with each product in the range extensively tested by independent testing companies.

The Platinum Range includes the Platinum Joey Swag baby sleeping bags which are a luxury upgrade from the standard Joey Swag baby sleeping bag. All Platinum Joey Swags are made from organically grown 500 thread count cotton sateen with the 1.5 TOG and 2.5 TOG padded with Australian wool carrying the Woolmark logo. The Platinum Joey Swag baby sleeping bags are available in 4 sizes and a dot pattern with different colour palette choices (Pink, Teal and Mocha) or the very regal white with platinum binding.

Made from the same organically grown 500 thread count cotton sateen as the Platinum Joey Swags the Fitted Cot Sheets are gift ready in the beautiful platinum gift box!