Members News
Love Your Bump maternity essentials by Cheeky Rascals
20/04/2016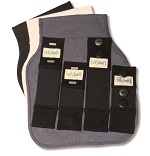 Available to the independent trade exclusively from Cheeky Rascals, Fertile Mind's Love Your Bump range, makes best-selling, affordable and comfortable maternity accessories.

Bando
A high quality stretchy band that holds up trousers, provides support and can be used over and under many different clothes. It is also a great cover up for breastfeeding mums. Available in black and white.

BellyBelt
BellyBelt is a simple elastic fastener that clips in to waist bands. Each pack comes with a button and clip

fastening band plus three fabric covers (white, black and blue).
SuperBra
Available as a nursing bra with drop-cups, or as a traditional maternity bra, Love Your Bump SuperBra is the perfect bra range for mums and mums-to-be. Without any fasteners or wiring, both bras provide lots of support and are comfortable enough to wear even at night. Available in nude and black.
Softtights
These 70 denier maternity tights combine the quality of leggings, the smooth feeling of microfibre and the stretch and durability of Spandex as well as an over-belly design.
For further information see www.love-your-bump.co.uk or call Cheeky Rascals office on 01730 895761.