Concept and Innovation Awards
2016 winners announced
01/04/2016
There were celebrations (as well as sore heads) on exhibitor stands at Harrogate International Nursery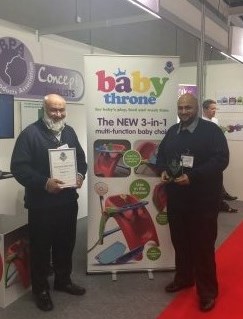 Fair in March after the winners of the BPA's annual industry awards were announced at the Majestic Hotel in Harrogate.

The winners of the BPA's Concept & Innovation Awards were announced as Mohammed and Akbar Dedat and Lesley Cartwright Taylor. Mohammed and Akbar's product won the Concept Award for Baby Throne, a bathing aid for showering babies in homes wher
e no bath is available. The judges thought that this product idea would be particularly popular in countries where traditional baths are rarely fitted into bathrooms these days.
Lesley's product, which won the Innovation Award, is Kiddierail – a child sized, height adjustable hand rail for adult stair cases to make ascending and descending stair cases safe for young children. The judges were impressed with this innovation, having seen nothing else like it in the industry and believing there to be a real market need.