Latest News
Gain industry recognition for your product
13/01/2016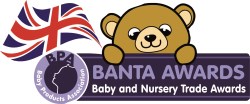 Companies exhibiting outstanding products at Harrogate International Nursery Fair in March 2016 have the opportunity to gain industry recognition by entering the Baby Products Association's Baby and Nursery Trade Awards (BANTAs).
These annual awards are presented to manufacturers and suppliers which excel in the quality of their products. The judges (who are all industry experts) look at a number of criteria including innovation, marketability, safety, consumer appeal and value for money. Receiving a BANTA is a fantastic accolade and is recognised by retailers and buyers as an endorsement of a 'must have' line to stock.
There are eight categories to enter: Travel (pushchairs, car seats etc); Travel Accessories (sun shades, ride on boards; travel suits etc); Sleep Accessories (bedding, night lights etc); Toys; In Home (high chairs, cots; nursery furniture etc); Safety (stair gates; baby monitors etc); Feeding, Cleaning & Changing and Best New Product. Each product can only be entered into one category, with the exception of new products which can be entered into Best New Product plus one other category.
Entry forms can be downloaded HERE and must be completed and returned to Julie James at the BPA no later than 26th February 2016. A shortlist will be announced prior to Harrogate International Nursery Fair and these products will be judged at the show on Sunday 20th March and the winners will be announced at the BPA BANTA Awards Dinner.