Latest News
Nursery Retailer of the Year
15/11/2009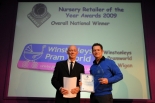 The Nursery Retailer of the Year Award recognises best practice amongst independents, encouraging the highest levels of customer service and the willingness to embrace and work with the challenges of modern-day retailing.
The 2009 Nursery Retailer of the Year were awarded at the Annual BPA Awards and Party night held on Sunday 11th of October, 2009 at The Tower Guomon Hotel. The winners of the Nursery Retailer of the Year 2009 Awards were as follows:
Winstanley's Pramworld of Wigan was announced as the National Retailer of the Year, 2009. Recognised for its outstanding service to customers and indepth knowledge of its products- the judges felt that the company's service was unrivalled.
Overall Excellence in Nursery Retail was awarded to Kiddicare.
Regional finalists, who were all highly recommended, were Cyril Webber of Barnstable for the South West, Babyworld of Wallingford for the South, Frills All round of Uckfield for the South East, Bristols Early Days of Sutton in Ashfields for the Midlands and East Anglia, Lullabys of Chirk for the North West and Tony Kealy's of Dublin for Scotland and Ireland.
All companies were praised for their exemplary levels of customer service and were presented with awards by the Chief Executive of the Baby Products Association.