ABC Kids Expo, Las Vegas News
Successful business in the USA
06/11/2015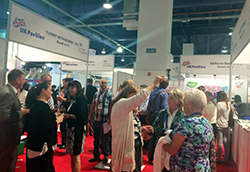 For the third year, a group of BPA members arrived in Las Vegas in October to attend one of the USA's largest baby trade shows – ABC Kids Expo. This year the UK Pavilion included 12 companies and the majority reported brisk business and enjoyed the opportunity to learn more about the US market and to network and make important new contacts.
Colin Cordner of Jackson Reece comments: "I strongly believe that the BPA's UK Pavilion provides a great platform for any British company wanting to gain exposure to the USA market and also the opportunity to meet potential new buyers from South America. This is a very interesting market for any British company as they are very interested in UK products and together we can greatly expand our export to these new markets."
Mike Edwards of Snugglebundl, adds: "As much as anything else the benefit was to learn how the USA market works in terms of product safety and legislation. I had a meeting with quite a few safety advisors and litigation advisors which turned out to be invaluable and will really help me to do more preparation for the US market in particular."
Lynda Harding of Sweet Dreamers, who joined the UK Pavilion in Las Vegas for the first time, also enjoyed her exhibiting experience saying: "The BPA provided an incredibly professional service which enabled us to attend this event and promote our brand in the USA. We have received a great deal of interest, from a wide range of territories and are confident that many of the leads will place orders with our company."
The majority of the companies participating in the UK Pavilion at ABC Kids received UKTI TAP funding grants to help towards exhibiting costs. Lynda Harding adds: "Ultimately, without support from the UKTI we would not have been able to attend this event and are truly grateful for its involvement and financial contribution."
The BPA now organises UK Pavilions at three international trade shows – ABC Kids Expo, USA; CBME Shanghai; and Kind und Jugend in Germany. It is also exploring further potential trade shows such as Singapore for future consideration. Visit the website at www.thebpa.eu for more information.