Latest News
Big business in China
31/07/2015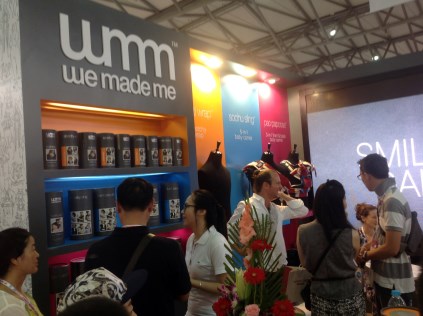 Participants in the UK Pavilion at CBME Shanghai in July returned to the UK with packed order books and enough new business to keep their sales teams busy for months.
This year was another record-breaking event with 2,147 exhibitors (22.6% more than last year) and 81,518 unique trade buyers. The UK Pavilion experienced an unrivalled level of business with stands packed with visitors for the entire duration of the show.
Dr Jim Shaikh of Yoomi, who attended the event for the second year, comments: "The show was a great success for us as we were very busy on all three days. We were able to have detailed discussions with existing partners and also develop a significant number of new leads for the Chinese market. We also met with approximately 20 potential new partners from the surrounding Asian territories and expect to convert, at the very least, two of these contacts to orders."
Lee-anne Simpson of Purflo, joined the UK Pavilion for the first time and said: "We found being a part of the UK Pavilion very beneficial. We now have a busy few months of following up all the commercial contacts that we made for both China and other countries in Asia and developing these partnerships."
Tammy Maxwell of Sock Ons said: "Sock Ons range was very well received at CBME and it was great to be under the UK Pavilion umbrella as everyone was on the lookout for 'foreign' products. We are already talking to a number of distributors who are very keen to start a relationship with us."
Josu Shephard of Jakabel added: "The Shanghai show was vibrant and busy with lots of potential business. The BPA does a brilliant job of organising the UK Pavilion and supporting participants throughout."
All of the companies participating in the UK Pavilion in Shanghai received UK Trade & Investment funding to help them launch into the Chinese market. The group also benefited from enhanced activity funding which allowed the UK Pavilion to really stand out from the crowd with its eye-catching British branding.
Robert Anslow, BPA managing director, comments: "The BPA is working closely with the UKTI to encourage British companies to export into high growth markets such as China. This is the second year that we have staged a UK Pavilion at CBME Shanghai and once again the results for all involved were outstanding. We hope that next year more British companies will be encouraged to take advantage of this support and join us at the show."