Latest News
British companies head for Shanghai
16/07/2015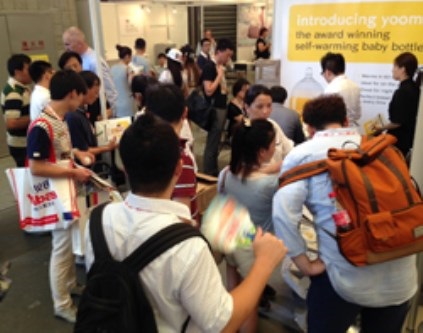 For the second year, the UK's Baby Products Association is taking a group of six British companies to present their products at one of the world's largest nursery trade shows next week – CBME Shanghai
Companies exhibiting include Purflo with its revolutionary sleep system, which includes fully breathable mattresses, cots and bumpers and a range of natural sleepsacs; Jakabel with its range of UV protective swimwear; and Yoomi with its innovative self warming baby bottle which heats milk to the natural temperature of breast milk in just 60 seconds.
Also participating is Pao Papoose /We Made Me – a 'must have' British brand of baby carrier formerly known as BabaSlings; MJ Mark presenting a huge catalogue of products including travel systems, cribs and playpens, wooden toys and beautiful handmade rocking horses; and Sock On with the latest 'essential' baby accessory which is worn over baby's socks keeping them firmly in place.
If last year's experience is anything to go by, where the nine participating companies took orders in excess of £1,230,000, these six companies can expect to come home with full order books and lots of new business leads. The show attracts over 80,000 trade buyers, 1900 suppliers and in excess of 2,650 brands each year.