CONCEPT & INNOVATION AWARDS 2018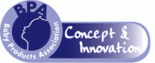 The Concept Award acknowledges products in their visionary phase, so may just have a drawing or diagram, whilst the Innovation Award is for ideas which have moved further forward and developed to potential production stage. Anything is considered as long as it is for maternity, babies and children under five years – so it could be equipment such as prams, highchairs, nursery furniture or safety equipment; toys, gifts, audio or books and any such related accessories.
The Baby Products Association's Concept & Innovation Awards are now open for entry.

DOWNLOAD APPLICATION AND GUIDANCE FORM HERE
For further information about these awards, please contact Julie James on 0845 456 9570 or Julie@b-p-a.org.