Latest News
Do you have an innovative new product idea?
25/03/2022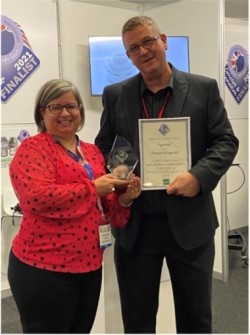 The Baby Products Association's 2022 Concept & Innovation Awards are now open for entry and the Association invites the nursery industry and wider community including students and budding entrepreneurs to submit interesting product ideas for consideration.
The Association is keen to promote excellence and innovation in the nursery sector and these annual awards encourage this. Over the years, the judges have been presented with numerous interesting and innovative ideas; many of which have proceeded to market.
Robert Anslow, managing director of the Association explains: "The judges are almost always pleasantly surprised by the ingenuity of many of the entries received. In the past we have seen everything from special gadgets to aid feeding and weaning; new compact products to make travelling with babies and young children easier; to sleep solutions and even toys.
"On occasions, the judges – who are all industry experts with many years combined experience in all aspects of baby products from design and manufacture; to safety and compliance; to retail and marketing – have advised entrants that their idea could prove too ambitious in terms of manufacturing costs and realistic retail prices. There are often also concerns on how some designs would be able to comply with rigorous testing and safety standards. However, there have also been many success stories, with the products which began as a seed of an idea presented to the judges now thriving in the market place. The majority of entrants are also grateful to receive knowledgeable and valuable feedback before embarking on what could potentially be an expensive journey to production."
The winner of the 2021 Concept & Innovation Award was Stuart Kingswell with Squirrel – an instant formula feeding dispenser. The judges were impressed with the clever design and engineering of the product which allows water and formula milk powder to be carried together in the same bottle but only mixed at the click of a button. This allows parents to keep formula milk safe and fresh until ready to use; but also reduces the necessity to use ready mixed formula milk – the packaging of which contributes to landfill.
Stuart, who was invited with the two other finalists – Nicky Bateman with The Quodo Soother (a patented teat designed and proven solution for parents to help infants struggling with persistent crying); and Rachel Wood of Bibado with Dippit (a stage one weaning spoon) – to present his product idea to the wider industry at Harrogate International Nursery Fair in October. At the time, Stuart, who is an engineer with no previous experience in the baby products industry, but loves to design and engineer solutions to problems, commented: "I am so honoured and delighted to receive this award – it means so much that Squirrel has been recognised and commended by industry experts."
The entry form for the 2022 Concept & Innovation Awards can be downloaded HERE and the only clause is that the product idea must not be for sale prior to Harrogate international Nursery Fair which takes place from 16th to 18th October 2022.