Latest News
Is remote working the future?
07/02/2021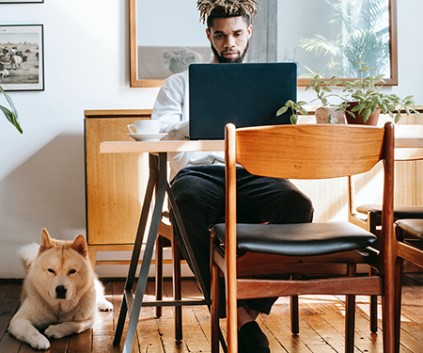 The COVID pandemic changed the lives of people around the world in 2020; and whilst 'home working' was once dangled like a carrot by employers as a perk, for the majority it has now become the norm.
An article in Forbes estimates that by 2025, 70% of all workforce will be working remotely at least five days a month; and the percentage of employees permanently working from home is expected to double by 2021 – this latter statistic echoed in a survey conducted by the Enterprise Technology Research (ETR). Another Gartner CFO survey revealed that over two-thirds of companies plan to permanently shift employees to remote work after the Covid crisis ends. Big companies are already paving the way – Twitter, based in San Francisco, told employees in May that they can now work from home indefinitely; and around the same time, Square also announced indefinite home-working even after offices reopen.
Recipe for change
Remote working will mean reduced office space requirements and rather than permanent individual desks; collaborative meeting spaces for team building and project meetings are likely to become the norm, whilst individual work will be carried out at home.
Performance management will change considerably and there will probably be an increased focus on work completed, rather than actual hours worked. Continuous feedback will become essential rather than an annual job review, as managers encourage employees to navigate their job responsibilities and meet performance expectations. Some may adopt remote employment management tools; and measuring how goals are set and measured will be vital in the management of remote working teams.
Where money might be saved on office space, investment in cybersecurity will be vital. Organisations will need to think strategically about how best to protect workers, data and equipment and securing a remote workforce requires a different approach and wider possibilities of data breaches.
Help and support for your business
Don't forget, if you are a Baby Products Association member, you have a number of free and reduced cost business services available to you from HR and health & safety advice to legal, testing and marketing services. Visit the website at www.b-p-a.org and login to the member's area for full details.